Hong Kong is an amazing country, filled with a vibrancy that is not often found in Asia. With a beautiful cultural history mixed with a modern and forward thinking population, it truly is a gem in Southeast Asia that more and more people are discovering with each passing year.
So when visiting Hong Kong, what are the very best things to do and see to make sure you get the best out of your visit?
#1 Disneyland
Just as in America and Europe, Asia also plays host to Disneyland and it can be found in Hong Kong. In fact, Disneyland is one of the major attractions for tourists from across the Asian continent.
Much like its sister parks around the world, you will get to meet the usual characters such as Mickey Mouse and experience many of the famous Disney shows, not forgetting the adrenaline filled rides that will keep every age group entertained all day long.
Hong Kong Disneyland is not as large as its western counterparts but packs a powerful punch nonetheless. Disneyland is practically known as one of the happiest place on earth, and when combined with glorious weather in a beautiful country, it becomes all that much happier.
#2 Tsim Sha Tsui Promenade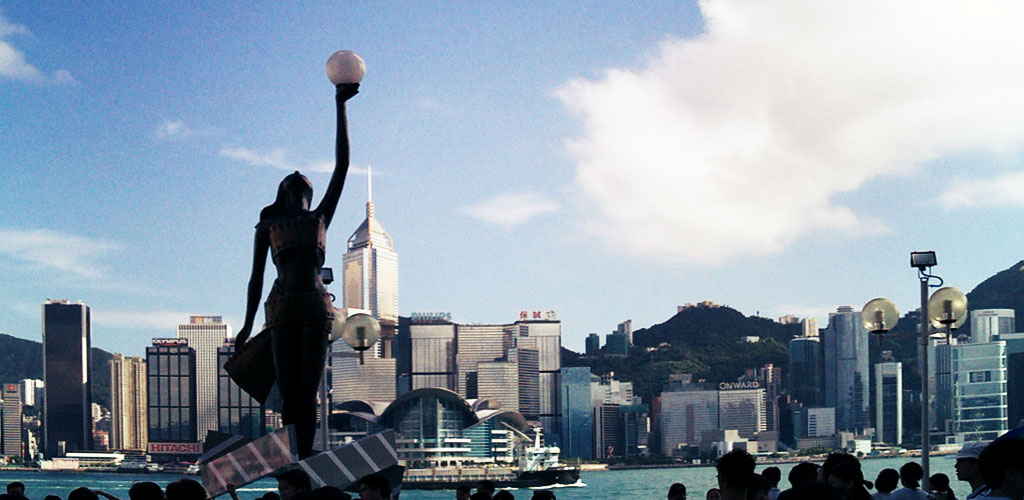 For those who like to take in the evening air with a leisurely stroll, the Tsim Sha Tsui Promenade offers the best of the best. Located along the riverside, you will be confronted with some of the most astoundingly beautiful cityscape and skyline views possible.
The walk is, of course, possible during the daylight hours, but the promenade transforms into something so much more special when the cover of darkness falls. If you are lucky, you will get to experience the symphony of lights where 44 skyscrapers put on a spectacular sound and light show.
For those who like experiencing the vibrant buzz of a city from a distance, this is the ideal spot. As you wander along the promenade you will also have the chance to enjoy some local food or perhaps enjoy a cocktail or two on the riverfront. There are some great shopping spots in Hong Kong as well, and the promenade does not disappoint.
The promenade makes for an ideal evening out for families, friends, and couples who appreciate the beauty of modern architecture, technology, and culture.
#3 Temple Street Night Market
Temple street night market is one of the busiest markets you will find in Hong Kong. As you enter the market your senses of smell, sight and sound will burst into life as they are bombarded by the fragrances of local cuisines bubbling away, traders yell to sell their wares and modern technology bombards your vision.
The night market is a utopia for those who love a bargain and can shop til they drop. You will get to experience local talents performing in the streets, meet traditional herbalists touting the local medicines, have your fortune read and eat until you can't eat another bite.
The wholesale fruit market is filled to the brim with delicately fragrance, brightly colored tropical fruits that have been freshly harvested. For those who love to try new and exotic food, this is one of the best places to start.
The market starts to get busy at around 6 pm and closes around 11 pm. For those who are interested in clothing, you will find just about every brand and style at super cheap prices. The market makes for a great night out as you get to shop, eat, explore and be entertained all in one place.
#4 Ocean Park
For those who are traveling in groups or as a family, ocean park should be on your must-visit list. A crossover between a zoo and a theme park, it is the largest in Hong Kong and will provide a full days' worth of entertainment.
Featuring famous pandas, the largest man-made aquarium in Hong Kong, dolphin shows, and some terrifyingly fun rides, Ocean Park has something for everyone. It is not only an awesome day out but educational at the same time.
There is a real olde worlde fairground feel to parts of the park with the game booths. You can also get to experience the park from a height and see just how large it really is by taking a ride on the cable car to the summit. Ocean park truly makes for an amazing day out and one that you won't forget in a hurry.
 #5 The Peak
As with every country, there are some famous landmarks that are the top of every visitor's list. Think Big Ben in London, the Eiffel Tower in Paris, and Venice in Italy. Well, Hong Kong Has Victoria Peak, and it is every bit as awe-inspiring as it looks.
From the top of Victoria peak, you are blessed with possibly the most amazing views of any city in the world. As you look down over the towering skyscrapers, Hong Kong is revealed in all its glory. The trip to the top of the peak is as beautiful in the day as it is in the night, and easily accessible by tram.
As the tram slowly but surely makes its way up the mountain, your views become more and more astounding. When you reach the top of the peak, prepare to have your mind blown.
To make it that little bit more special, have a visit to the sky terrace 428. Here you have stunning panoramic 360-degree views at 428 meters above sea level. Here you can also cement your deepest wishes and desires at the love corner by writing your wish on a card that is placed in a giant hanging heart.
No matter where you go in Hong Kong, these five attractions should be on your list, all tried and tested and guaranteed to help you have the most amazing time in Hong Kong.
Author
Lauren writes to inspire, motivate as well as urge and attract not only herself but hopefully others, to experience, wander and explore more of this amazing world we call home. Whether it be luxury, budget, thrilling, unwinding or everything in-between, she is highly fascinated with each and every country. She occasionally writes for World Travel Bound.